Risk Management
In the highly sophisticated and technical world of finance, companies face the difficult challenge of managing risk and remaining compliant.
Although it's impossible to predict the future with absolute certainty, proper risk management strategies prepare your business for future adversity. Proactive risk management also protects your business and gives it a competitive edge!
Prescio can provide your business with key insights on how to assess, measure, analyze, and manage risk.
With risk management services from Prescio, our dedicated team is ready to assist you with all aspects of risk assessment, risk measurement, quantitative analysis, statistical analysis, stress testing, and capital assessment based on your unique business needs. With our assistance and decades of combined expertise, Prescio can help you make better decisions regarding business, legal, and technical risks with custom tools and analysis.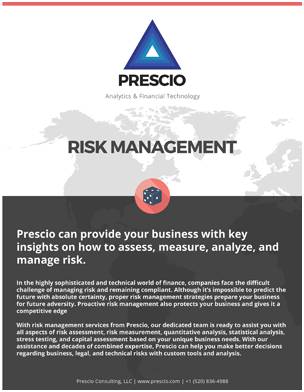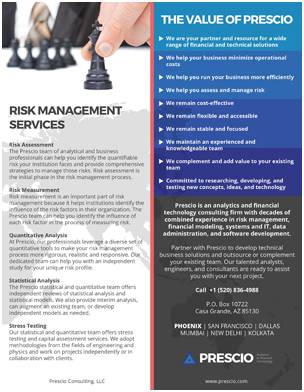 Risk Management Services
Risk Assessment
The Prescio team of analytical and business professionals can help you identify the quantifiable risk your institution faces and provide comprehensive strategies to manage those risks. Risk assessment is the initial phase in the risk management process.
Risk Measurement
Risk measurement is an important part of risk management because it helps institutions identify the influence of the risk factors in their organization. The Prescio team can help you identify the influence of each risk factor in the process of measuring risk.
Quantitative Analysis
At Prescio, our professionals leverage a diverse set of quantitative tools to make your risk management process more rigorous, realistic and responsive. Our dedicated team can help you with an independent study for your unique risk profile.
Statistical Analysis
The Prescio statistical and quantitative team offers independent reviews of statistical analysis and statistical models. We also provide interim analysis, can augment an existing team, or develop independent models as needed.
Stress Assessment
Our statistical and quantitative team offers stress testing and capital assessment services. We adopt methodologies from the fields of engineering and physics and work on projects independently or in collaboration with clients.
Regulatory Requirements & Other Guidance
CECL
Prescio Consulting can help you update your loan loss allowance methodology for Current Expected Credit Loss (CECL) compliance and can provide operational support to your organization if necessary.
Vendor Risk
Regulators expect financial institutions to follow effective risk management processes regardless of whether the activity is performed internally or through a third party. Use of a third party does not diminish the financial institutions' responsibility to ensure that all activity is performed in a safe and sound manner in compliance with laws and regulations that protect the financial institution and its customers.