Financial Technology
Prescio remains at the forefront of financial innovation through its internal projects, partnerships, and services focused on cryptocurrencies and blockchain technologies.
In addition to helping our clients understand and leverage emerging open source payment protocols and digital currencies, we also develop our own products independently and in partnership with organizations around the world. Our main focus in this area to date has been in our internal and public projects regarding Bitcoin and current projects regarding Ripple.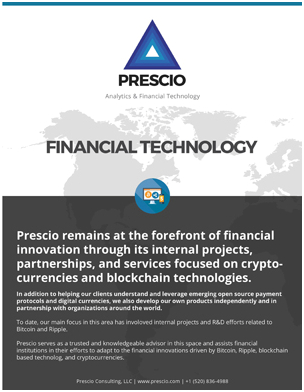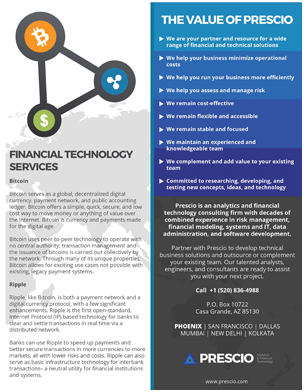 Financial Technology Services
Bitcoin serves as a global decentralized digital currency, payment network, and public accounting ledger. Bitcoin offers a simple, quick, secure, and low cost way to move money or anything of value over the Internet. Bitcoin is currency and payments made for the digital age
Bitcoin uses peer-to-peer technology to operate with no central authority; transaction management and the issuance of bitcoins is carried out collectively by the network. Through many of its unique properties, Bitcoin allows for exciting use cases not possible with existing, legacy payment systems.
Ripple, like Bitcoin, is both a payment network and a digital currency protocol, with a few significant enhancements. Ripple is the first open-standard, Internet Protocol (IP) based technology for banks to clear and settle transactions in real time via a distributed network.
Banks can use Ripple to speed up payments and better secure transactions in more currencies to more markets, all with lower risks and costs. Ripple can also serve as basic infrastructure technology for interbank transactions– a neutral utility for financial institutions and systems.